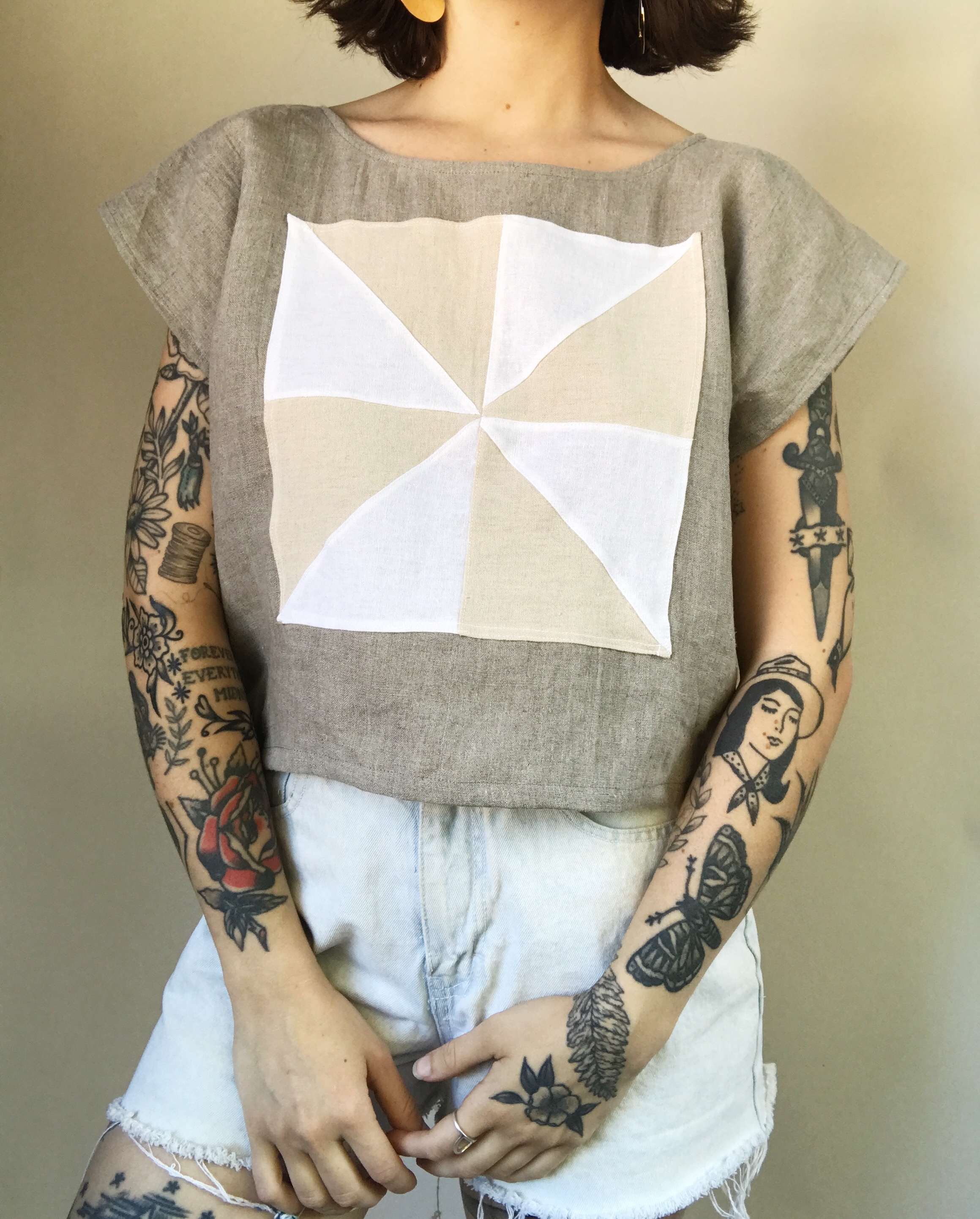 Scrap Top 9
The scrap top collection! Simple silhouette tops with fun designs made from left over scrap fabric. Each one is unique. The design is created based on what scraps are available at the time. The scrap collection is helping achieve zero waste. 100% of my clothing scraps get used or donated to other projects -I am really loving using them with these tops!
Scrap Top 9 is made from a gray 100% linen. Quilt inspired design from white + oatmeal linen blend fabrics. Light/medium weight material. Boxy and cropped with slightly wider arm holes. Plain on the backside.
This is my second release of these. Although I have made more scrap tops than numbered, the numbers are more so for the designs (so that they are easy to refer to if anyone is interested in a similar pattern).
For this small batch collection #2, I chose to use all fabric I already had available in my studio. No new fabric was bought for these. Most of it was extra fabric from other pieces or projects. Therefor, all the colors are random and more unique and most likely I will not be making anything with these fabric colorways again. What you see here is all that's available!
Ready to ship. This one comes in S/M only. Find measurements below. I apologize for the lack of size range with a lot of this batch, I used what was available fabric wise.
On that note, if you like the design or color palette of a specific scrap top and it wasn't made in your size, or you want some kind of adjustment to the measurements, or if it's just sold out and you want a similar designed one - please reach out through the contact link on my site! I would be happy to take a look at available fabric scraps and let you know if I can make a similar top (or can take requests for other colors in the same design!) Please keep in mind scrap pieces are limited and random but I do have a lot of scraps and sizes of the staple linen colors I use (ginger, black, red, mustard, oatmeal, denim, gray) and have plenty of those readily available to use.
CARE: I always recommend hand or spot washing handmade clothing. With the scrap collection I highly recommend this option and hand washing only. The scraps are sewn on like an applique on top of the linen and can be more delicate because of that (especially with different colors and fabrics). If you ever need to machine wash take extra care and make sure to use a gentle setting in cold water and always remember to air/hang to dry to prevent any shrinkage or puckering of designs.
Measurements laid flat:
Length: about 17.5-18"
Width: about 22" armpit to armpit
Armpit holes: about 9"
As with all handmade pieces this one is subject to small imperfections that make it unique.
Thank you!