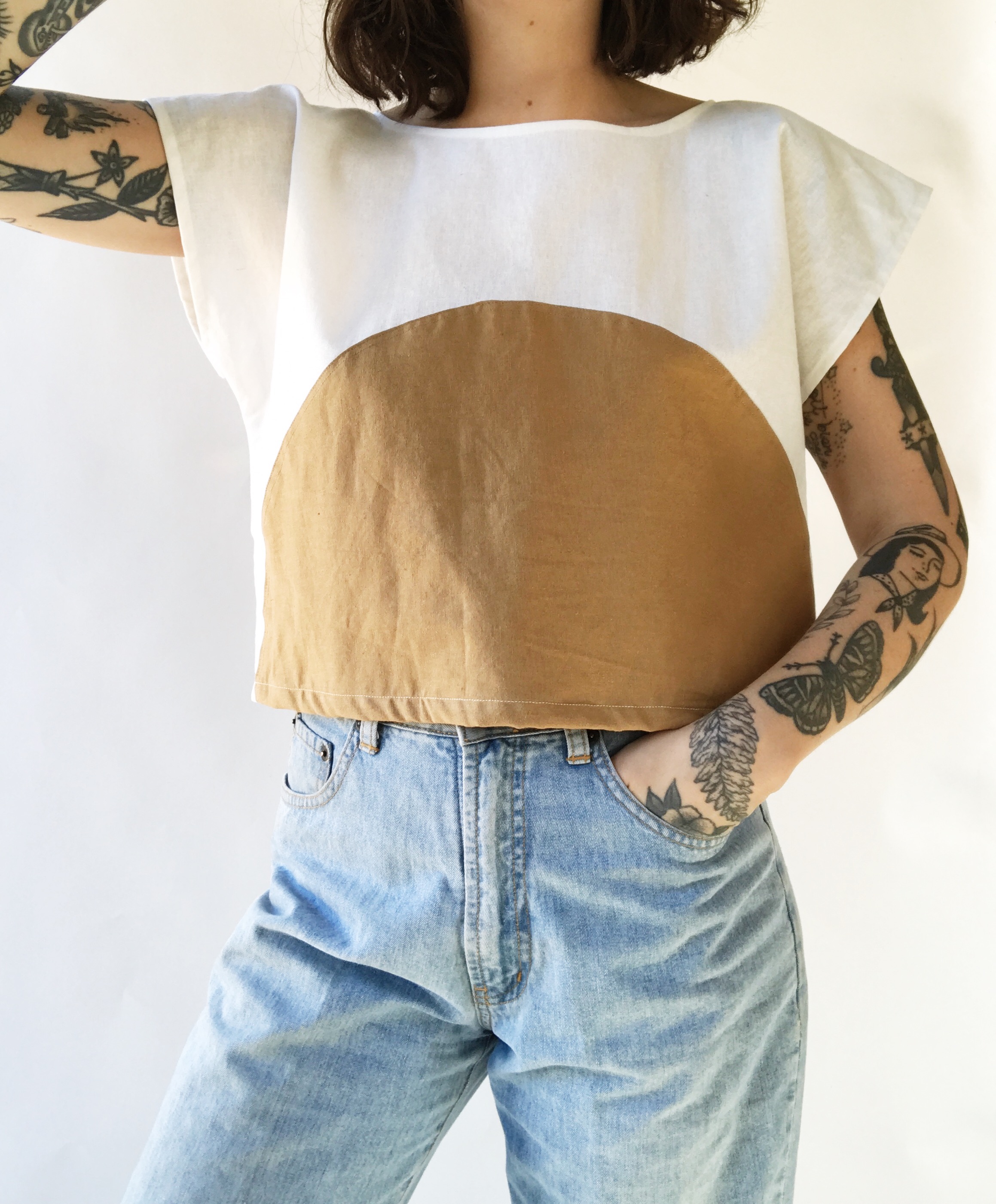 Sunrise Top
The Sunrise top has a big arch that resembles a sun rising (or setting) sewn onto the top from scrap fabric. The scrap collection is helping achieve zero waste. 100% of my clothing scraps get used or donated to other projects -I am really loving using them with these tops! This specific top will still be small batch, but I'm hoping to continue to offer this style in the linen color scraps I always have on hand and keep this top available to order. Boxy and cropped top, plain back, made from white light weight cotton linen blend.
I am now out of the brown color in the photo but I am going to continue making it in colors I always offer - ginger linen (most comparable to photo color), mustard linen, black linen, or wine red linen. I am open to any other colors too so feel free to contact me.
Made to order. Sizing comes in S/M or M/L. Not every body fits into this range, so I always take custom sizing requests.


CARE: I always recommend hand or spot washing handmade clothing for as long as possible. With the scrap collection I highly recommend this option and hand washing only. The scraps are sewn on like an applique on top of the linen and can be more delicate because of that (especially with different colors and fabrics). If you ever machine wash make sure to use a gentle setting in cold water and always remember to air/hang to dry to prevent any shrinkage or puckering of designs.


Measurements laid flat as follows:

S/M:
Length about 17.5-18 inches
Width from armpits about 21-22 inches
Armpits about 8-8.5 inches.

M/L
Length: about 19 inches
Width: about 23 inches
Armpits about 9 inches.

All pieces are subject to small imperfections that make them unique.

Feel free to message with any questions - thanks so much!